Translation Fundraiser
Our vision: Free history education for everyone in the world, in every language. That's a lofty goal indeed, but that won't stop us from working towards it. To get there we need to translate... a lot! Please donate today and help us make a truly global impact. Thank you very much!
Review
Send to Google Classroom:
Rating:





Audience:
General Public
Difficulty:
Easy
As an introduction to the history of Rome this is a fine book but, even for one who already knows a great deal, the work is an enjoyable experience. The images are magnificent and the text is well researched and clearly written. A perfect gift for the history buff in the family and, if that's you, a great treat for yourself.
Originally a small town on the banks of the Tiber River, Rome grew in size and strength through trade. The location of the city provided merchants with an easily navigable waterway on which to traffic their goods. Greek culture and civilization, which came to Rome via Greek colonies to the south, provided the early Romans with a model on which to build their own culture. Once the city was established, it was war - most notably the Punic Wars with Carthage - which would make it great. Ancient Rome by Duncan Hill provides a reader with an excellent understanding of this great city and the culture of the people.
No, it's not as comprehensive as Gibbon or Durant - it's a coffee table book - but, as such, it is really excellent and informative. Sometimes such books gloss over the less pleasant epochs in the history of a civilization but this work by Duncan Hill confronts Rome from the Republic to the Empire squarely and honestly. Highly recommended.
Buy This Book
$8.75
plus shipping
By purchasing books through this website, you support our non-profit organization. World History Encyclopedia receives a small commission for each book sold through our affiliate partners.
About the Reviewer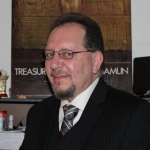 A freelance writer and former part-time Professor of Philosophy at Marist College, New York, Joshua J. Mark has lived in Greece and Germany and traveled through Egypt. He has taught history, writing, literature, and philosophy at the college level.
Cite This Work
APA Style
Mark, J. J. (2012, June 19). Ancient Rome. World History Encyclopedia. Retrieved from https://www.worldhistory.org/review/10/ancient-rome/
Chicago Style
Mark, Joshua J.. "Ancient Rome." World History Encyclopedia. Last modified June 19, 2012. https://www.worldhistory.org/review/10/ancient-rome/.
MLA Style
Mark, Joshua J.. "Ancient Rome." World History Encyclopedia. World History Encyclopedia, 19 Jun 2012. Web. 04 Dec 2021.