Illustration
Send to Google Classroom:
About the Author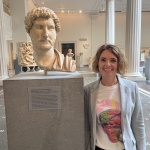 Carole maintains the popular ancient history photo-blog Following Hadrian, where she travels the world in the footsteps of emperor Hadrian.
Cite This Work
Chicago Style
Raddato, Carole. "Roman Relief of a Teacher & Three Pupils." World History Encyclopedia. Last modified December 10, 2018. https://www.worldhistory.org/image/9650/roman-relief-of-a-teacher--three-pupils/.