Server Costs Fundraiser 2021
Please help us pay for the servers and web services required to operate our non-profit organization's website. Any donation helps, no matter how small: If every visitor were to give only $1 we would be fully funded within a day.
Donate Now
Illustration
Send to Google Classroom:
About the Author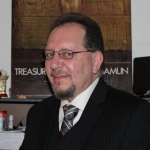 A freelance writer and former part-time Professor of Philosophy at Marist College, New York, Joshua J. Mark has lived in Greece and Germany and traveled through Egypt. He has taught history, writing, literature, and philosophy at the college level.