Illustration
Send to Google Classroom:
About the Author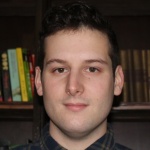 Andrej is a dedicated pursuer of knowledge of ancient history. His interests include the study of ancient Balkan tribes and their interactions with the Greek civilization. He has a BA (Hons) in History and is currently working on his master's degree.
Cite This Work
Chicago Style
Zivojin, Andrej. "Limestone Sanctuary, Sarmizegetusa Regia." World History Encyclopedia. Last modified December 02, 2019. https://www.worldhistory.org/image/11548/limestone-sanctuary-sarmizegetusa-regia/.