Illustration
Send to Google Classroom:
About the Author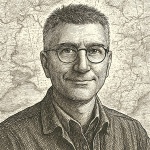 Simeon is a freelance visual designer with a deep interest in the human side of history. He believes that every image should be an interaction, a commentary, and a narrative, and every map should lead on an exciting journey of exploration and discovery.
Cite This Work
Chicago Style
Netchev, Simeon. "India in the Vedic Age, 1500 BCE-500 BCE." World History Encyclopedia. Last modified August 31, 2021. https://www.worldhistory.org/image/14540/india-in-the-vedic-age-1500-bce-500-bce/.