Illustration
Send to Google Classroom:
About the Author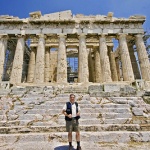 Born in Cali, Colombia, currently living in Houston, TX. Studied at Colorado Christian University, Dallas Seminary and Capital Seminary & Graduate School in Lancaster, PA. Christian pastor and college professor in the areas of Bible and Theology.
Cite This Work
Chicago Style
Serrano, Edgar. "Remains of Ancient Monument in Laodicea." World History Encyclopedia. Last modified July 14, 2020. https://www.worldhistory.org/image/12465/remains-of-ancient-monument-in-laodicea/.