Keeping good time proved an elusive objective for centuries, and it was only in the second half of the 17th century, during the Scientific Revolution (1500-1700), that clocks were made which lost seconds rather than minutes each day. The breakthrough came with Huygens' pendulum clock in 1657, which was further improved by pocket watches using a balance spring from 1675.
The effects of the pendulum clock and spring-powered watch were enormous. More accurate timekeeping was essential for astronomers, land surveyors, cartographers, navigators, and other scientists keen to observe, measure, and record natural phenomena. The intricacy of clocks, the first of many machines to follow, grabbed people's imagination and meant they became a frequent metaphor for a new mechanical view of the world.
The Problem of Time
Ever since antiquity and the invention of sundials and water-powered clocks, it had been possible to measure time. The problem was that these devices were really only reliable for determining the hour of the day and not the precise minute. Mechanical clocks were invented at the end of the 13th century and improved timekeeping, but these were most commonly used in church bell towers and town halls. Mechanical clocks still lost an appreciable amount of time, and so they usually had to be reset each day, a task most owners performed at noon in reference to the Sun. In addition, the falling weight which regulated the clock usually had to be raised again every 24 hours. Most clocks of this period were ornate, cumbersome objects that could not be moved around. The emphasis was on design rather than function, and so most mechanical clocks were very expensive to buy.
Clocks at the end of the Middle Ages were often used to measure larger time periods, for example, phases of the Moon or the periods of the zodiac. They were also used to indicate when community activities should begin and end, such as markets and church services. None of these activities required precise-to-the-minute timing. Such clocks were of little use to the new scientists of the Scientific Revolution – particularly the astronomers, land surveyors, and navigators – since they required accurate clocks that lost only a few seconds each day. The answer to the problem came with the invention of the pendulum clock.
The Pendulum Clock
One of the first designs for a clock that worked using a pendulum was made by the Italian Galileo Galilei (1564-1642). Galileo had identified the isochronism of a pendulum, that is it swings at regular intervals, the beat being faster the shorter the length of the pendulum. Other thinkers, including Leonardo da Vinci (1452-1519), had known this, but the key to making a clock from a pendulum was to devise a mechanism where the regularity of the pendulum's swing precisely controls the falling of a weight. Before the pendulum, clocks had used turning wheels, but the mechanism was unreliable and prone to losing time.
As with most inventions, there were rival claims as to who first invented the pendulum clock.
The Dutchman Christiaan Huygens (1629-1695) made the first working pendulum clock in 1657. His pendulum clock lost a maximum of 15 seconds per day, and so the Dutchman dramatically increased the accuracy of timekeeping. This was important for astronomers – both Galileo and Huygens were specialists in this field – so that they could more accurately calculate the movement of heavenly bodies. As with most inventions, there were rival claims as to who first invented the pendulum clock. The Dutchman Salomon Closter was one such claimant, but as he had previously collaborated with Huygens, it seems unlikely he was an original inventor. Huygens presented his pendulum clock to the wider scientific world in his book Horologium (1657), the preface of which gave credit to Galileo for his original idea. Huygens published another important book on pendulum clocks in 1673, his Horologium Oscillatorium.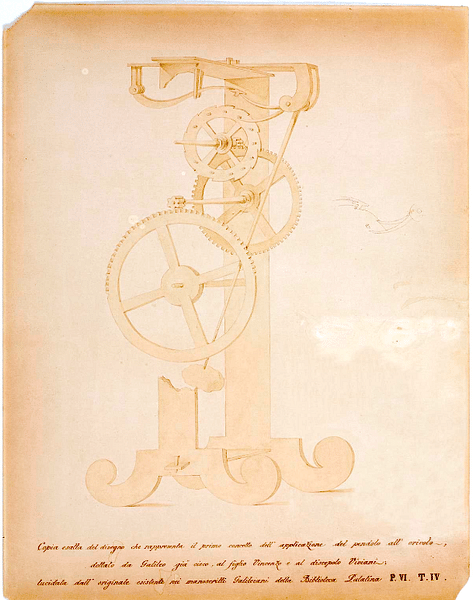 The pendulum clock's accuracy now meant a whole range of new scientific experiments became possible. Crucially, the greater precision in measuring time meant that scientists in different places could much more accurately compare each other's results when conducting similar experiments.
Clocks & Observatories
Astronomy was the driving science of the Scientific Revolution as new instruments like the telescope meant that new things could be observed and measured. Observatories were built to permanently observe the skies, and an essential instrument in them was an accurate clock, preferably several. In 1641, Johannes Hevelius (1611-1687) established an observatory in Danzig (Gdańsk) in Poland, funding the project himself. Hevelius combined a sextant, quadrant, and two pendulum clocks to accurately measure the long-term movement of the heavenly bodies.
Clocks became a metaphor or even a model for our universe for many 17th-century thinkers.
The Royal Observatory at Greenwich was founded in 1675 and had state-of-the-art technology, which included two pendulum clocks, each with a giant pendulum measuring almost 4 metres (13 ft) in length. These clocks stood in purpose-built recesses in the Great Room, where the key observations were made using telescopes. The two clocks were made by the famous clockmaker Thomas Tompion (1639-1713) of London. Each clock had a different kind of mechanism to ensure the astronomers knew the exact time their observations of the heavens were made. In addition, there was another clock in the sextant house, and a fourth was soon added to the Great Room, this one with a 2-metre pendulum. The cost of the four clocks was 100 guineas (around $25,000 today). Clocks needed constant maintenance, and unfortunately, one of the observatory's pendulum clocks ceased to work a few months after it had been installed, probably because it had not been lubricated properly or dust had got into and blocked the delicate mechanism.
Many observatories were established temporarily to take a specific set of readings, and for these, instruments were sent out by such bodies as the Royal Society. In an illustration of how useful and precious a good timepiece was, one pendulum clock made by John Shelton was sent out by the Royal Society in the 1760s for temporary use on the island of St. Helena in the mid-Atlantic, on Barbados in the Caribbean, and at the Cape of Good Hope at the southern tip of Africa.
Balance Spring Watches
Although the pendulum clock was a great leap forward in timekeeping, it was still not accurate enough for the purposes of navigation. Inventors like Huygens made valiant efforts to build pendulum clocks that could withstand the motion and humidity of sea travel, but these were not generally successful, and in any case, losing 10 to 15 seconds a day was simply not good enough for a navigator to accurately determine their longitude (East-West location). Essentially, to determine longitude, a navigator needed to know the local time of where they were and be able to compare this with a reference time, typically the time of a known location like the ship's home port. As ships were now sailing around the world, an inaccurate clock meant to be keeping the home port's time could lose an awful lot of time over a single voyage. Finding the longitude became a national project in several countries, with cash prizes offered for the inventor who could come up with an accurate chronometer. Even private companies like the East India Company offered funding for inventors to create an accurate timepiece.
Huygens was able to build a small, handheld chronometer in 1675 using the new idea of a balance spring. This spring effectively replicates the action of a pendulum but can do so in a very small space and not be affected by the external movement of the watch. When Huygens first sketched his spring-powered watch, he wrote in his diary, "Eureka – I have found it" (Jardine, 144). Huygens presented a working model of his new watch to the Royal Academy in Paris. Unfortunately, he then got involved in a priority dispute concerning the watch spring mechanism with the English scientist and notorious litigator Robert Hooke (1635-1703).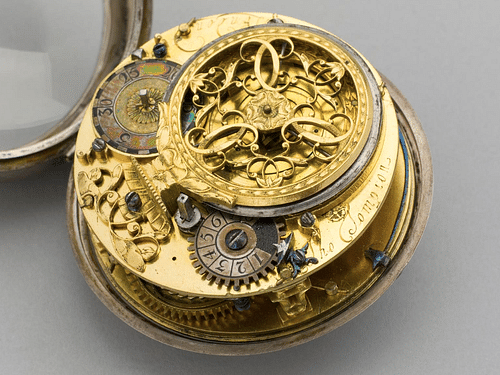 Hooke claimed he had had the original idea back in 1658 but had not put it to practical use because he had not been able to find financial investors for the project. It may have been Huygens' and Hooke's mutual friend Robert Murray (1608-1673) who had communicated Hooke's plans to Huygens. To prove his claim, Hooke built a spring-driven clock in 1675, assisted by Tompion, who made the first clocks for the Greenwich Observatory. A third inventor, Isaac Thuret, a Parisian watchmaker, also claimed to have developed a new type of watch. Huygens had employed Thuret to make a model of his invention, and so the Frenchman's claim to priority was highly dubious.
In the end, no inventor secured a patent, and clockmakers everywhere were now building balance spring timepieces. The balance spring improved accuracy and reduced the size of clocks. These devices were now accurate enough to make it worthwhile to put both minutes and seconds hands on their faces. However, they were still not good enough for navigation where just a few seconds out made for large differences in geography. For this reason, the longitude problem was not finally solved until 1770 and the arrival of Harrison's marine chronometer, invented by John Harrison (1693-1776) but only after decades of research when several earlier and less reliable models had failed Admiralty sea trials.
The Wider Impact of Accurate Timekeeping
There were several spin-off inventions from the pendulum clock. The pendulum mechanism itself had permitted the invention of a metronome device, first mentioned in a 1602 text by a Venetian doctor. This pulsilogium was used by doctors to much more accurately determine a patient's pulse rate. Isaac Newton (1642-1727) used pendulum clocks to precisely time his experiments with gravity. The ever-improving precision of pendulum and spring-powered clocks made it possible to measure velocity and changes in velocity in different conditions such as at altitude, in a vacuum, and in variations of air pressure. The principles of a working clock – gears, balance wheels, and weights – were also applied to many other machines during the British Industrial Revolution, which followed later in the 18th century.
Clocks became much more common and so too did a concern for time. Britain led the field in clockmaking by the second half of the 17th century. However, British clockmakers emphasized function compared to their European counterparts, who preferred grand clocks made of precious materials and often with automaton figures. The demand to know the time more precisely in Britain is perhaps reflected in this emphasis on function. Certainly, the development of the pendulum clock resulted in countless older mechanical clocks being converted as the redefinition of accuracy in timekeeping gripped just about everyone. The spring-powered pocket watch became very popular, too, as watchmakers everywhere copied Huygens' and Hooke's ideas.
Clocks and watches continued to improve, notably with the addition of jewels to decrease the likelihood of the mechanism blocking due to dust-gathering lubricants. It was two French brothers, Pierre and Jacob Debaufre, working in collaboration with the Swiss inventor Nicolas Fatio de Duillier, who made the first pocket watch using drilled rubies as bearings and end stones around 1704 (when the patent was applied for). Jewels are still used in watches for this purpose today.
The Clock as a Metaphor
Clocks became a metaphor or even a model for our universe for many 17th-century thinkers, especially those who adhered to a mechanical explanation of life as we know it. The mechanical philosopher René Descartes (1596-1650) once noted in his Discourse on Method, published in 1637: "We see that clocks have been built by men, but do not for this reason lack the power to move themselves" (Wright, 206). Descartes proposed that our world was similar to a clock, made by a divine Creator but capable of running on its own without the requirement of any supernatural intervention. The astronomer Johannes Kepler (1571-1630) was in agreement: "My aim is this, to show that the celestial machine is not like a divine creature, but like a clock…insofar as nearly all the diversity of motions are caused by a simple, magnetic and corporeal force, just as all the motions of a clock are caused by a most simple weight" (Wootton, 485).
Similarly, physicians and anatomists like William Harvey (1578-1657), Robert Boyle (1627-1691), and Marcello Malpighi (1628-1694) took the same approach to the human body, seeing it as a wonderfully complex machine, just like an intricate clock. The human heart was often compared to a clock, which governed the mechanism of the body. In turn, the metaphor was extended to politics, where a good sovereign was likened to a master clockmaker who ensured the mechanism of the state ran smoothly. This political metaphor had two sides since, for some people, it could mean a positive influence on society, and for others, it represented unfeeling and authoritarian rule. As the historian J. Henry notes, precisely which view depended on the political system concerned: "Contrasting attitudes to the clock metaphor, therefore, reflected different conceptions of order: authoritarian on the Continent and liberal in Britain" (106).