Navigation
Biography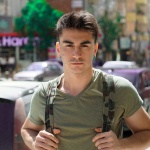 As a person that was born in a historical-rich geography, It was near impossible for me to not get hooked up to history. Even when I was a little kid, I would bike my way down to the ancient theatres located near my hometown and photograph them.

I would always translate content, for those who sought more knowledge, when I was in high school. It was such a joy to see my effect on people. After high school, I've completed my study on Translation and Interpretation, and now I specialize in simultaneous interpretation, subtitling and game localization.

I also localized World History Encyclopedia UI into Turkish.

I am also an MMA artist and a photographer.
Analytics
320 pageviews on this user's contributions