Navigation
Biography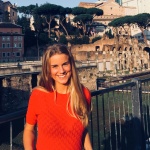 Wanda has studied International Relations with specialization in History at The University of Oslo, and is currently studying for her Master's degree in Environmental History at Trinity College Dublin.

Her main interests are ancient and medieval history, mythology and the study of sustainable use and preservation of cultural heritage.
Traveling and exploring new sites and cultures is her main passion, and she always looks for historical sites and museums to explore, as well as going to locations outside the main cities and off the traditional tourist routes. In addition to holiday travels, she has lived for a longer period in Pennsylvania (USA), Barcelona, Nepal, England, Rome, and Dublin for study and volunteer work.
Analytics
179,950 pageviews on this user's contributions