Navigation
Biography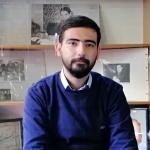 I am a educational counselor in Iran and live in Miandoab at Iran .
My mother tongue is Farsi(Persian)
I'm interested in history and foreign culture.
I studied at Teacher Training University for 4 years. In addition to education, I studied
history and comparative education.
I believe that knowing and understanding history makes us know ourselves better.
I love reading books and learning new things, so I learned English and started reading articles in English.
That's why I am here, in addition to reading historical articles on the Worldhistory.org , to translate these articles into Persian for Persian speakers so that everyone is aware of new historical knowledge.
I have read a lot about world history, the history of ancient Iran and also history of philasophy.
I specialize in the history of philosophy and historical analysis.
All this along with the fact that I have an academic education in the field of educational psychology and child rehabilitation.
I think teaching history to children can open their minds to the world around them and away from religious and racial prejudices.
Analytics
91 pageviews on this user's contributions