Navigation
Biography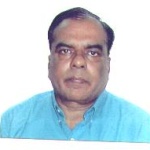 Patit Paban Mishra, Professor of History (Retired) at Sambalpur University, India, and the Northern University of Malaysia, specializes in World History with particular reference to South Asian and South-East Asian History. He was the President of the Indian History Congress (Sect. IV) and Odisha History Congress. Mishra was the author of over eight books and 30 research articles. He is a prolific Encyclopaedia writer and has written about 600 articles in more than 100 Encyclopaedias, all published by reputed publishers in the USA. Mishra has an outstanding scholarly reputation as Chairperson/participant of twenty-two International Conferences, three dozen national conferences, and Visiting Professor/Fellow.

MA in History at Delhi University
MPhil at JNU New Delhi
Ph.D. at JNU New Delhi.
D.Litt degree Rabindra Bharati University, Kolkata.
Analytics
33,426 pageviews on this user's contributions