Navigation
Biography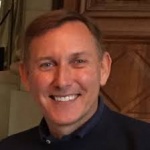 I have been very fortunate to have had such a wide array of experience in several facets of finance -- commercial banking, investment banking, emerging markets sales and trading, corporate advisory, and most recently in venture capital. This wide experience is invaluable to me as I help others build their businesses.

I studied business and French at Washington University in St Louis, where I was able to follow my interest in international finance. I spent my junior year studying finance and music at the University of Strasbourg, France. While working on my MBA at Wharton, I became very interested in the fledgling emerging markets debt trading business. Soon after graduation, I was given the opportunity to build that business at one of the world's largest banks at the age of 27.

I moved to London in 1988 to expand my experience in international finance, first in setting up an emerging markets trading business and then helping to set up a corporate finance division at another major international bank. In 1993, I established a venture capital business -- working first with colleagues and then spinning off and working for my own account a few years later.

In addition to finance projects, I now spend time as a director on the boards of a number of charities and philanthropic organizations in the UK and the US, with a particular focus on classical music and opera.