Navigation
Biography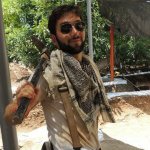 I have loved history for as long as I can remember. When I was in elementary school, middle school, and high school I would often take a break from regular studies to read history books. When I was in history class, I would always read ahead. When I was home, I would often either play historical video games or—as I got older—would read up on historical and archaeological topics on the web.

I was fortunate enough to be accepted into The George Washington University for my undergraduate studies. There I met Professor Eric H. Cline, a man who changed my life. He introduced me to the hands-on history world of archaeology and I never looked back. I received my B.A. in Archaeology from The George Washington University in 2012 after many fine seasons of excavations and new friendships.

After GWU, I took some time off to do further excavations. At the end of what I often refer to as my 'dig year,' I went off to London to begin my graduate studies, and I recieved my M.A. in Mediterranean Archaeology in November 2014 at University College London.

My archaeological experience is across 13 excavations over seven seasons for a total of 64 weeks in the field. I have excavated four times at Tel Kabri and three times at Tel Megiddo in Israel, in alternate summers since 2009. I have also dug at two sites in Italy (Marsiliana d'Albegna (GR) in Tuscany and Policastro Bussentino (SA) in Campania), one in Jordan (with UCSD's ELRAP), and one in Cyprus (Idalion). These excavations have helped shape me into who I am today. I have even been fortunate enough to have my picture from the 2013 at Tel Kabri appear on the cover of the January/February 2014 "Dig" issue of Biblical Archaeology Review!

I currently spend my professional time writing—including writing for the Palestinian Exploration Quarterly, published by the Palestine Exploration Fund, Bible History Daily, published by the Biblical Archaeology Society—studying historical, archaeological, and museological subjects, and working at the Cavalier Galleries in addition to interning in the Arms and Armor Department at the Metropolitan Museum of Art in New York.
Analytics
80,290 pageviews on this user's contributions