Navigation
Biography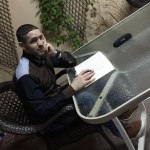 I studied business administration in Syria,and achieved the postgraduate diploma in human resource management. However, I have a deep passion in reading history, ancient and modern. Biographies, ancient civilizations, wars and battles all of them are within the category I deeply love to read and discover about.
I wrote a lot of researches and articles which are published in different cultural magazines and newspaper .
I published three books till now:
1- "Our Heritage of Saidnaya" documenting the history and heritage of one of the most ancient places in Syria called (Saidnaya).
2- "The Phoenicians, Superior Civilization from the Ancient History"
3- "Leaders who Made the History, from Alexander to Rommel"
All my books and articles in Arabic (as a native language).
At the first months of 2015 moved from Syria to Abu Dhabi (UAE).
My favorite quote: "A person who does not know the history of the last 3,000 years wanders in the darkness of ignorance, unable to make sense of the reality around him." Goethe
I really believe in the human, historical and cultural mission of Ancient History Encyclopedia.
Analytics
67,150 pageviews on this user's contributions