Server Costs Fundraiser 2023
Running a website with millions of readers every month is expensive. Not only do we pay for our servers, but also for related services such as our content delivery network, Google Workspace, email, and much more. We would much rather spend this money on producing more free history content for the world. Thank you for your help!
Review
| | |
| --- | --- |
| Rating: | |
| Title: | The Naked Olympics: The True Story of the Ancient Games |
| Author: | Perrottet, Tony |
| Audience: | General Public |
| Difficulty: | Easy |
| Publisher: | Random House Trade Paperbacks |
| Published: | 2004 |
| Pages: | 256 |
This book is a quick and cinematic read that brings an ancient tradition to life. Tony Perrottet's jovial and immersive writing style lends itself to a general audience or high school level and above. No prior knowledge is needed. Perrottet explains the contests and events of the ancient Olympic Games, which he considers the most spectacular event in antiquity. I strongly recommend this book to anyone on the fence about reading ancient history because it is guaranteed to entertain.
The Naked Olympics is a quick and cinematic read that brings an ancient tradition to life with colorful writing. Unlike many other books available on the Greek Olympics that are marketed towards children, Tony Perrottet's approach does not shy away from gritty details and adult themes. Perrottet is an author and avid traveler with a history degree and has published a number of popular books related to both history and travel. His writing style is immersive, jovial, and, at times, even comical. It is clearly his goal to entertain, as he often makes comparisons between the ancient Olympics and a modern-day festival.
I strongly recommend this book to anyone on the fence about reading ancient history.
The purpose of Perrottet's book was to examine one particular aspect of the ancient Greek life in a broad and focused sense. On one hand, he attempted to show how everything in the Greek world could be related back to the Olympics. He sought to prove that it was the most spectacular event in the ancient world in terms of religion, recreation, and personal glory. On the other hand, his goal was also to simply outline how the contests functioned: who participated, how the games were played, what was the schedule of events, and who were the notable figures from our existing records. The chapters were organized both thematically and chronologically. Perrottet followed the sequence of the Olympics, starting with the site of Olympia and its surrounding city-state of Elis. He then discussed the preexisting Greek love of sport, how the city of Elis prepared for the games, the arrival of the guests, and then each contest and festivity in the order they happened. With each event, however, he took the time to elaborate on that topic, such as explaining a standard ancient Greek banquet once he got to the day where Elisans held a grand sacrifice to Zeus. Through this approach, he covered a range of topics, but his overall focus appeared to be social. He regularly brought the games back to the individual, providing readers with a made-up ancient character for an immersive day-in-the-life perspective.
I strongly recommend this book to anyone on the fence about reading ancient history. Its materials are easily digestible to someone with no prior knowledge because it pertains to a tradition we are all familiar with. After all, there are not many ancient festivals that we still practice globally today. Perrottet makes numerous references to the modern world and uses simple and non-subject-specific language. Even including the adult themes, I consider this book appropriate for the high school level and above. However, I do not recommend this book for research purposes. This is not because I doubt Perrottet's scholarship in any way but because of two other reasons. First, his references are all in the form of endnotes. I found myself wishing for more footnotes and citations in order to track noteworthy information in the text back to their sources more easily. Second, he did not analyze any unknown details currently debated by historians or provide any of his own theories. This shifted the tone from a deep dive into the Olympic Games to a brief overview. The book is around 200 pages and is so focused on its chosen topics that Perrottet often repeated himself with selected historical anecdotes. For these reasons, I consider it a colorful account mostly for purposes of enjoyment and enrichment.
In conclusion, The Naked Olympics is a short and wonderfully entertaining read for a general audience on the ins and outs of the ancient games. Those hoping to reenact the games will have an easy time with this book, and those who doubt that the ancient games were as extravagant as the Olympics today may be proven wrong.
Buy This Book
$18.00
plus shipping
By purchasing books through this website, you support our non-profit organization. World History Encyclopedia receives a small commission for each book sold through our affiliate partners.
About the Reviewer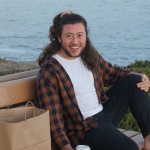 Matthew is a recent college graduate with a B.A. in History and a Teaching Credential, currently working in childcare. He enjoys art, dance, literature, and costuming from antiquity and hopes to study ancient history in graduate school.