Server Costs Fundraiser 2021
Please help us pay for the servers and web services required to operate our non-profit organization's website. Any donation helps, no matter how small: If every visitor were to give only $1 we would be fully funded within a day.
Donate Now
Review
Send to Google Classroom:
The Maya of Mexico and Central America have continuously inhabited the lands comprising modern-day Yucatan, Quintana Roo, Campeche, Tabasco, and Chiapas in Mexico and southward through Guatemala, Belize, El Salvador and Honduras. The `Mysterious Maya' have intrigued the world since their `discovery' in the 1840's by John Lloyd Stephens and Frederick Catherwood but, in reality, much of the culture is not that mysterious when understood. Contrary to popular imagination, the Maya did not vanish and the descendants of the people who built the great cities of Chichen Itza, Bonampak, Uxmal and Altun Ha still exist on the same lands their ancestors did and continue to practice, sometimes in a modified form, the same rituals which would be recognized by a native of the land one thousand years ago. Lost Kingdoms of the Maya focuses on this continuity of culture and connects the Maya of the present day with their ancestors of the ancient past.
The text of the book is written by Gene. S. Stuart and George E. Stuart, both Mayanists with the National Geographic Society, and is incredibly accurate and reliable. A beautiful book, it includes many splendid drawings and photographs depicting the landscapes, cities, artwork, and plant and animal life of the region inhabited by the ancient and modern Maya. The focus of the book, as the title suggests, is on the `lost kingdoms', the ancient cities, of the Maya and there is a great deal of information on Mayan culture, art, language and, of course, history. The art work and photographs alone are amazing but, coupled with the text and the precise maps, the book is a must-have for anyone interested in the Maya and an excellent addition to any library. Highly recommended.
Buy This Book
By purchasing books through this website, you support our non-profit organization. World History Encyclopedia receives a small commission for each book sold through our affiliate partners.
About the Reviewer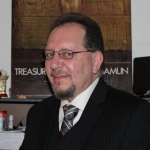 A freelance writer and former part-time Professor of Philosophy at Marist College, New York, Joshua J. Mark has lived in Greece and Germany and traveled through Egypt. He has taught history, writing, literature, and philosophy at the college level.
Cite This Work
APA Style
Mark, J. J. (2012, July 07). Lost Kingdoms of the Maya. World History Encyclopedia. Retrieved from https://www.worldhistory.org/review/15/lost-kingdoms-of-the-maya/
Chicago Style
Mark, Joshua J.. "Lost Kingdoms of the Maya." World History Encyclopedia. Last modified July 07, 2012. https://www.worldhistory.org/review/15/lost-kingdoms-of-the-maya/.
MLA Style
Mark, Joshua J.. "Lost Kingdoms of the Maya." World History Encyclopedia. World History Encyclopedia, 07 Jul 2012. Web. 26 Jul 2021.