American Revolution Fundraiser
We are raising funds to create the American Revolution section of our free encyclopedia. Become a part of our educational mission and help us share this pivotal chapter in American democracy and world history with readers worldwide!
Illustration
About the Author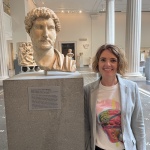 Carole maintains the popular ancient history photo-blog Following Hadrian, where she travels the world in the footsteps of emperor Hadrian.